Chapter 7: Energy From the Sun
To analyze solar energy versus oil, it's important to understand how solar power works.
Overview of Solar Energy
Solar systems are clean sources of energy. They do not cause air or water pollution, and they don't emit gases that contribute to climate change.
The sun has great potential as a source of home heating. Eighteen days of sunshine equal the earth's entire supply of coal, oil and gas.

Solar power works because of energy conversion. Light energy changes into heat or electrical energy.
Solar Heating Options
Solar heating systems classify as either active or passive:
Active.

Active systems have mechanisms such as electrical pumps that contribute to energy conversion, and they warm liquids or gases. Systems that heat liquids are better suited to handle whole buildings. In these liquid systems, water, antifreeze or another solution heats up and is either used immediately or stored until needed.A circulating pump moves the liquid through a collector that resembles a very large, glass-covered box. The sun warms the liquid there. To immediately heat indoor air, liquid goes through an energy exchanger. Otherwise, a water tank or radiant system stores heat energy.Another type of active system uses photovoltaic cells. They are made from materials, such as silicon, that generate electricity when exposed to sunlight. Cells are typically a few inches square. To create a solar energy system, numerous cells are placed together to form a panel. Groups of panels create arrays. Panels are then often placed on rooftops to make electricity. Batteries store this energy until it's needed.

Passive.

In homes with passive solar heating system, the sun shines through windows with southern exposures. These windows receive full sun daily from mid-morning to mid-afternoon.Sunlight heats dark thermal masses, which are commonly walls or floors made from concrete, brick, stone or tile. The masses store heat and release it when needed. Fans or blowers sometimes help distribute warmed air. In other cases, heat flows through convection. Air moves from areas of higher temperatures to spots that are cooler.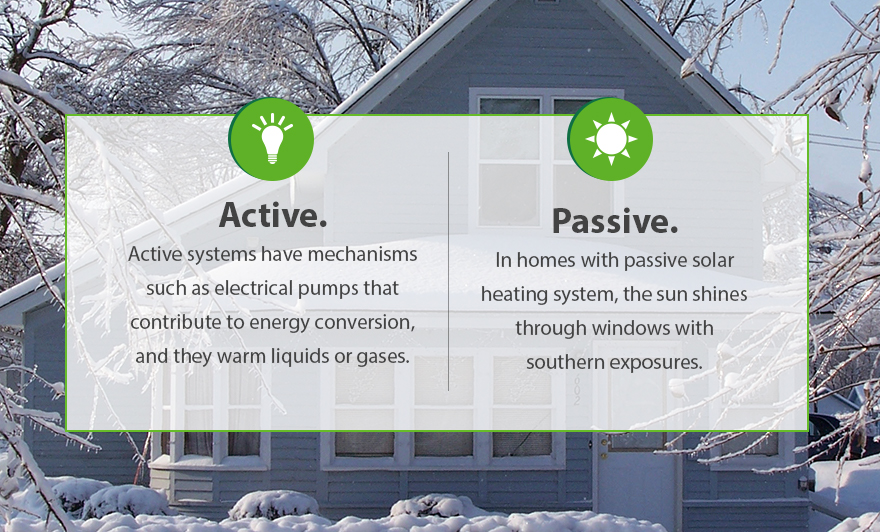 Evaluating Solar Energy
Solar energy systems are not efficient, but under some circumstances, they keep energy costs down. Here is a breakdown of their efficiency, cost and disadvantages:
Efficiency.

Though solar energy is a renewable energy source, it is not very efficient. For instance, when sunlight hits solar panels, only about 14 percent of the sun's energy creates electricity.

Cost.

Even though solar systems are not highly efficient just yet, once the system is paid for the energy they generate is essentially free. However, some systems do use electricity for blowers or fans.Passive systems are less expensive, but even photovoltaic systems have dropped in price significantly — 45% since 2010. Companies may also offer deals for financing and leasing. In addition, federal tax credits and state incentives are available for some structures.Solar energy works best in regions that receive a great deal of sunlight annually, such as southwestern states. Since solar energy does not always provide sufficient warmth, some homes need backup heating systems.

Disadvantages.

The availability of sunlight affects the solar power versus oil debate. Naturally, solar energy is not collected at night, so round-the-clock home heating relies on energy that has been stored. Though the sun still shines on cloudy days, the amount of solar energy that can be collected in bad weather is reduced.
If you are looking to utilize oil for heating in Pennsylvania, Connecticut, Massachusetts, or any other state in the NorthEast, contact us today!

Download the full guide!