Commercial Heating Oil Delivery
Your business thrives on a safe and comfortable working environment. For many businesses in Pennsylvania, Connecticut, Massachusetts, and other northern states, that means a reliance on commercial fuel oil. At Smart Touch Energy, we offer commercial oil delivery your business can count on.
During the coldest months of the year, you should be focused on your business - not the process of heating your facility or building. We'll manage commercial heating oil on your behalf, providing reliable delivery as well as quality service and savings. You'll benefit from competitive commercial heating oil prices and dependable delivery when you choose Smart Touch Energy.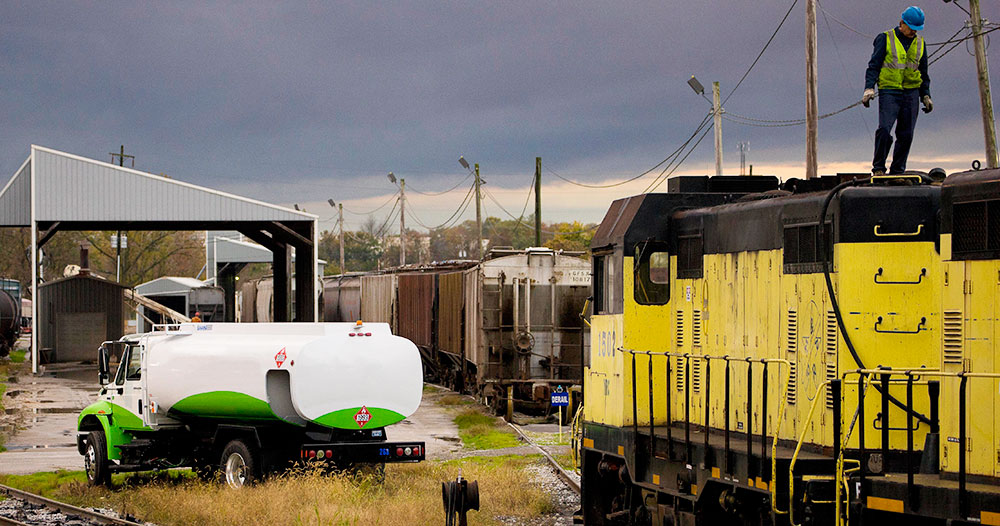 Experience Easy, Dependable Ordering and Delivery
At Smart Touch Energy, we make getting commercial heating fuel easy. You can order online and enjoy delivery in just one or two days. The coldest times of the year can put a premium on heating oil and other resources. Drops in temperature also lead to high demand, and winter precipitation can close roads and put pressure on suppliers' ability to deliver.
To save you time and money, we always offer dependable commercial fuel oil delivery at the best rates possible. You never have to worry about your delivery, because our network of dealers works to ensure local customers get the heating oil they need to manage their everyday business.
Meeting Your Unique Needs
Our team places an emphasis on service quality and how we can best anticipate the unique needs of your business. That's why we offer a variety of benefits to you and other customers who need commercial heating oil. These services include:
Emergency service

– We're on call 24 hours a day to provide emergency service. If you need urgent commercial fuel oil delivery service on an oil burning system, our network of professionals is ready and willing to provide an urgent response that gets you up and running again.

Competitive rates

– We always offer our commercial fuel oil at competitive prices. While fuel can rise and fall in price along with the market, we always strive to offer the best possible prices to both our residential and commercial fuel oil customers.

Oil delivery and more

– At Smart Touch Energy, we offer a full suite of services for your heating and cooling systems - services that will keep your business moving forward through the cold of winter and heat of summer. Contact us for maintenance, repair and service on your heating and cooling systems, as well as your commercial fuel oil needs.
Saving Money With Smart Touch Energy
Managing the bottom line is a key concern for any business. No matter what industry you're in, you can't afford to pay extra for utility costs. If your business relies on heating oil during the winter months, you know how much of an expense that can be if you're not careful. Like all commodities, heating oil prices fluctuate according to consumer demand and a number of other factors. However, market pricing is not the only determinant companies use to set their rates. Your choice of supplier will make an important difference in how much you pay for the following reasons:
Clearly, not all commercial heating oil suppliers are created equally. When you work with Smart Touch Energy, you are working with a company that's different from the competition. We have exclusive partnerships within our delivery network that allow us to offer affordable, on-time delivery to businesses throughout the Northeast. Our online ordering system means we don't have a brick-and-mortar storefront to pay for, which keeps our overhead costs — and your admin fees — low.
Lastly, as one of the largest fuel networks in the country, we have the buying power to offer rates consistently below averages posted by the U.S. Energy Information Administration. Check out our current pricing and see for yourself!
Commercial Heating Oil Delivery Options
To meet the needs of a wide range of customers, we offer two convenient fuel delivery options. Our AutoFill program offers the most convenience. As an Autofill customer, we'll calculate your average fuel needs to determine when you're due for a fill-up and send a truck well in advance. That way, you never have to worry about scheduling a delivery or having enough fuel on hand. In reward for your loyalty, you'll receive an additional discount off our already economical commercial heating oil rates.
If you prefer the freedom of not being tied down to a contract, scheduling one-time delivery with Smart Touch Energy is easy. Simply visit our website, check current rates, create an account and place your order. You also have the option of adding extra services such as our burner maintenance package.
Need emergency commercial heating oil delivery? We can get you the fuel you need in 24 hours or less. Contact our office directly for more information.
The Smart Touch Difference
We work with a network of trusted dealers throughout New Jersey, New York, Massachusetts, Connecticut, Pennsylvania, Maryland, Rhode Island, New Hampshire, Maine, and Delaware to ensure you have the commercial heating oil your business needs. We place an emphasis on acting quickly to meet your urgent needs, as well as providing dependable delivery through the coldest months of the year. When your business runs on commercial heating oil, you can trust Smart Touch Energy as your provider.
Contact us today to learn more about the commercial heating oil your business needs.