Chapter 3: Benefits of Oil Heaters
The benefits of oil heaters begin with efficiency. Oil heaters offer more heat per BTU than natural gas, propane, electric, solar, geothermal or wood-burning systems.

Heating Oil Efficiency
Heating oil efficiency is high, especially with newer furnaces. The capabilities of heating systems are typically described by the annual fuel utilization efficiency, or AFUE. This yearly measurement compares how much heat a system emits to how much fossil fuel it uses.
Contemporary oil heaters score well on the AFUE. They typically have ratings between 80 and 90 percent. What does that mean for oil heat efficiency? It means only 10 to 20 percent of the heat produced escapes through the chimney or other vent.
Cost Concerns
Some consumers are uneasy about the cost of heating with oil because it can be higher than with other systems. During winter 2014 to 2015, the average fuel cost for Americans with oil heaters was $1,851, versus $919 in natural gas. However, the purchase price of an oil furnace is usually less expensive than a gas device.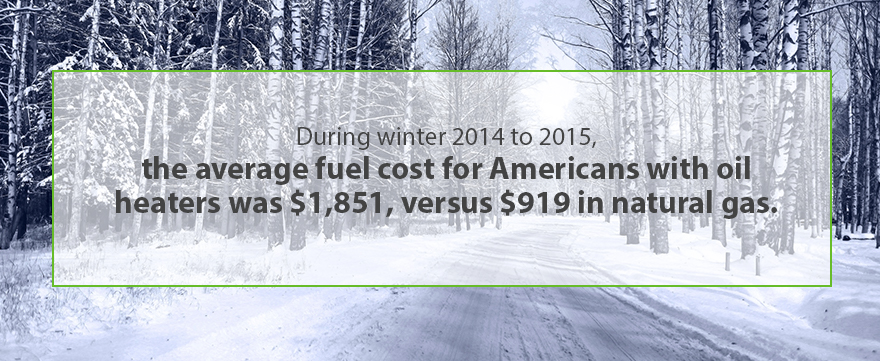 Homeowners using oil heat are not helpless when it comes to controlling their energy costs, however. For instance, the timely purchase of heating oil makes a significant difference in price.
Heating oil costs are often lower in late summer or fall, so those are good times to fill tanks. In some cases, dealers offer fixed prices so customers can lock in oil fees for the season. These clients are not affected by price variations caused by weather, market factors or oil supplies. Other dealers have budget plans that spread the cost of oil throughout the year.
Homeowners who weatherproof their homes can also help lower the cost of heating with oil. Putting caulking or weather stripping on doors and windows and insulating attics and walls helps to prevent cold air from getting in and warm air from leaving — and vice versa in the warmer months. And like with any heating system, a lower thermostat temperature setting saves energy.
Individuals who heat with oil and have limited incomes benefit from state and federal energy assistance policies. The Low Income Home Energy Assistance Program is a federal plan that helps with heating bills. In addition, government agencies or oil dealers sometimes enact special programs to help with cold weather heating bills.
Considering Oil Heat
If you're considering heating with oil, you should know the basic facts about oil heating systems. For example, your house will need an on-site storage tank. A local dealer delivers the oil based on estimated usage or if you call for delivery. This storage tank keeps you from running out of oil.
Oil furnaces are usually taken care of through a service contract signed with the oil provider. With a service contract, you must call for a yearly cleaning and checkup. The company may also promise regularly scheduled maintenance visits. Oil heaters are generally easy to service because their components are accessible. Oil heating also means periodic chimney cleaning and regular filter changes.

Download the full guide!